Welcome to East Park, Hull's largest park and one of the premier parks in the North of England.
East Park fully opened in 1887 to celebrate Queen Victoria's Golden Jubilee. This Grade II listed park benefited from a council assisted lottery grant totalling £10 million. It has been transformed into a vibrant green space where you can enjoy modern attractions and discover historic treasures. We are always working on ways to improve East Park.
There's something for everyone. You can -
take a stroll around 130 acres of parkland
brave a ride on our Wicksteed splash boat
visit our Animal Education Centre
visit the new library at the Pavilion
enjoy afternoon tea in the Pavilion cafe
Children's play area

East Park is home to a refurbished children's play area with brand new equipment for children to enjoy.
In addition to all of our amazing attractions, East Park is home to a wide range of sport and leisure activities which you can take part in.

The East Park water play area
The East Park water play area is now closed for the season.
The refurbished facility features new seating and a new toilet block. The splash pad itself boasts 43 water jets providing a mixture of different play features that include rooster tails, geysers, ground gushers and spray caps.
How to book
Booking in advance is required. We have a limited number of walk-up spaces available on the day. Make sure you arrive within 15 minutes of the start time of the session for your booking to be secure.
If you are a Live It Hull fitness member, you can book a place using your online membership account. For people making a casual booking, follow these steps -
select the sign-up button
enter your details and register an account
when you have created your account, select make a booking
select Hull Parks, Book Classes and then Hull Parks
From here you can then select the session you want for the day you want.
Book the East Park Water Play area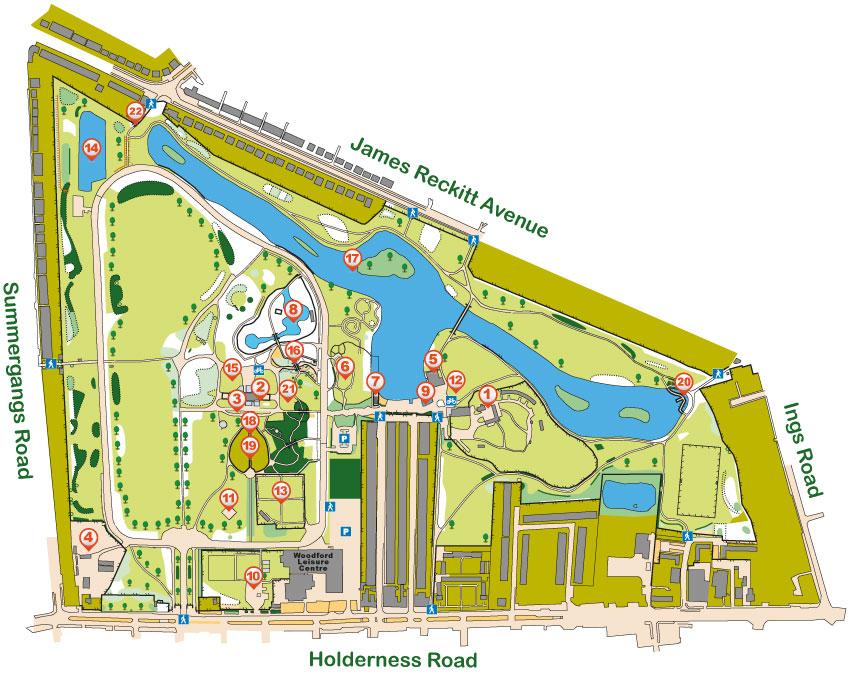 Animal Education Centre
A free zoo featuring animals and birds from around the world
Central Pavillion Cafe
Enjoy homemade food, snacks and drinks with views of the park
East Park library
Hull's newest library housed at the main pavilion building
Adapted cycling centre
A range of cycles for disabled visitors, their carers and families
Boat house
Home to our swan boat rides, plus outdoor toilet facilities
Children's playground
A large collection of modern play equipment designed for all ages and abilities
Splash boat
A popular ride which has provided thrills and memories for visitors since 1929. We have one of only 2 Wicksteed Splash Boats now left in the country
Children's water play area
A new children's water play area with water geysers, ground gushers and spray caps
Swan boats and rowing boats
Hire a swan boat pedalo and enjoy a trip out on Ferens Boating Lake
Youth zone
A fun place to hang out 24/7, whatever the weather
Free outdoor gym
Robust equipment designed for visitors of all ages and abilities
Outdoor musical instruments
A selection of musical instruments made from reclaimed materials for you to bang and bash
Bowling green
3 high-quality greens used regularly for competitions and available to anyone who wants to play
Model boating pond
A popular sailing facility, the only one of its type in the North of England
Mick Ronson reflection garden
One of Hull's most famous musicians is celebrated with an 8 foot steel memorial celebrating his achievements
Khyber Pass
A rock folly complete with its own waterfall and unique history
Ferens boating lake
A haven for wildlife, boaters and anglers which was dug out by unemployed locals after the First World War
East Park clock tower
Situated near the bandstand and pavilion, the clock tower is a focal point in the park for all visitors
Star gardens
Spectacular floral displays and inspirational horticultural designs
Sensory garden boardwalk
Sensory garden and lake boardwalk, with sculptures to make the flowers move and release their fragrance
Veterans corner
Sit in quiet reflection and look at the steel memorial dedicated to veterans of the World Wars and later conflicts
RAF Sutton gates
Ornate gates which were transferred from RAF Sutton in 1971 and restored in 1999
Visit the Animal Education Centre

Located within East Park, the Animal Education Centre is host to a wide range of different domestic, farm and exotic animals. The Animal Education Centre has a range of events to engage and educate people of all ages about animals and wider nature topics.
Adapted cycling scheme
East Park is home to the largest adapted cycling scheme in the country, enabling people with physical, sensory and intellectual disabilities to participate in cycling using specially adapted bikes around the park.
Fishing at East Park
The rules for fishing at East Park and our other fishing lakes set out by the Angling Trust can be found on our fishing page.
You can book your fishing pass using the button below -
Toilets
Public toilets are available at the rear of the boathouse next to the Animal Education Centre. The toilets are open from 10am to 3pm daily.
Disabled toilets are available. Changing Places facilities are not available within East Park. The nearest Changing Places facilities can be found at Woodford Leisure Centre.
Use of drones
The use of drones is not permitted at East Park.
How to find East Park
East Park is located to the east of the city centre on Holderness Road. The main access for vehicles is via the car park at Woodford Leisure Centre.
There are also pedestrian entrances located on -
East Park Avenue
Ings Road
Summergangs Road
James Reckitt Avenue
Holderness Road
Address -
East Park
Holderness Road
Hull
HU8 8JU

Opening times - The park is staffed daily.